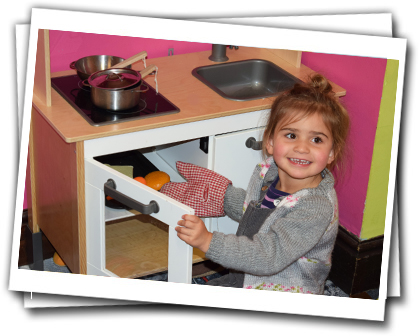 We are very proud of the skills, qualifications and experience of our staff. We have a greater proportion of fully qualified staff than other nurseries. Regulations require 50% of nursery staff to be fully qualified. At Buttons 100% of our staff are fully qualified.
Staff learning and motivation are of utmost importance and the nursery's commitment to this is highlighted by the comprehensive learning program that we have in place. Staff are monitored and supported by a Supervisor and we provide a continuous professional development program to enable the staff to gain other relevant qualifications.
Our staff have further qualifications in specialist areas such as Child Protection, Health & Safety, Food Hygiene, First Aid, Positive Behaviour Management and Fire Safety. Supervisors have First Aid at Work qualifications, with all other staff having Paediatric First Aid training.
Staff that join the team at Buttons are subject to rigorous checks. Professional references are obtained and staff are cleared through the Disclosure and Barring Service (DBS clearance) prior to their start date. This is followed by a three month induction period to ensuring they continue to contribute to the high standard of care we expect at Buttons.
We offer a limited number of college placements for those interested in fulfilling a career in childcare. Trainees are closely supervised and are fully DBS checked prior to starting at the nursery.
The trainees are in addition to, rather than substitutes for our qualified staff.


Lisa Hine BA(Hons) (Managing Director)

I opened Buttons Nursery in January 2000 and was motivated to do so when I was unable to find high quality childcare for my own children. I had over four year's experience running a successful childminding business in Cardiff, which included caring for the children of members of the Welsh rugby team. I am a firm believer in treating every child as I would expect my own to be treated. As well as providing full developmental support my team and I provide emotional support to the children including frequent 'cuddles'. This closeness that the staff have with the children is evident from visiting the nursery and is mentioned frequently in the nursery's annual inspection reports. Since opening Buttons I have completed a BA (Hons) Degree in Teacher Training specialising in early years at the University of Worcester, qualifying as a teacher in 2008.

Staff

Gail Hughes, Deputy Manager, Qualified Level 3
Tracey Thirgood, Senior Nursery Nurse, Qualified Level 3
Kirsty Griffiths, Nursery Nurse, Qualified Level 3
Lauren Roe, Nursery Nurse, Qualified Level 3
Kelly Sumner, Nursery Nurse, Qualified Level 3
Amy Jones, Nursery Nurse, Qualified Level 3
Danielle Opie, Nursery Nurse, Qualified Level 3
Rachel Bevan, Nursery Cook
---
Buttons Nursery are proud to support the following charities: