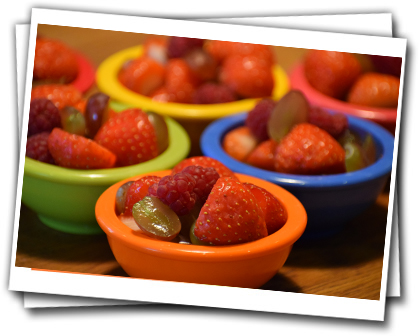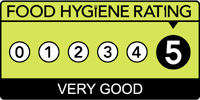 Meal times at Buttons are happy and relaxed social times.

There is never a more crucial time in a child's life when nutrition is so important. In their early years children discover new tastes, textures and new likes and dislikes.

We take nutrition very seriously and ensure that every child enjoys healthy and nutritious well balanced meals and snacks, all provided free of charge.

All meals are freshly prepared on the premises by our fully qualified dedicated chef, in our FSA 5* awarded kitchen.
Parents can be certain that the food their children are eating at nursery is freshly prepared using quality ingredients.

We provide children with a diet that meets the nutritional requirements at every stage of their development, which minismise the use of salt, sugar and other additives.

Fresh milk and formula milk are provided free of charge and drinking water is available throughout the day. We welcome breast-feeding mothers and provide refrigerated storage for breast milk.
The menu is rotated every three weeks to ensure variety. All snacks and meals are served with milk or water, with special dietary requirements catered for (vegetarians, allergies etc.) For young babies we provide a variety of pureed fruit and vegetables until they are ready to progress onto the next stage where we provide pureed/mashed food selected from the lunch menu.

Morning Snack Menu

Monday
Tuesday
Wednesday
Thursday
Friday
9.30am
9.30am
9.30am
9.30am
9.30am
Food
Toast
Muffin
Fruit Loaf
Crackers
Crumpets
2 Fruit Varieties
2 Fruit Varieties
2 Fruit Varieties
2 Fruit Varieties
2 Fruit Varieties
Lunch Menu

Monday
Tuesday
Wednesday
Thursday
Friday
12.00pm
12.00pm
12.00pm
12.00pm
12.00pm
Week 1
Tuna & Vegetable Pasta Bake
Sausage & Mash with Vegetables & Gravy
Lamb Cawl
Chicken & Vegetables in White Sauce with Rice
Cottage Pie & Vegetables
Mains
Week 1 Puddings
Chocolate Cake & Cream
Rice Pudding & Jam
Fruit Crumble & Custard
Fresh Fruit Salad & Evaporated Milk
Yoghurt & Biscuit
Week 2
Potato Waffles, Fish Fingers & Peas
Boiled Ham with Vegetables & Parsley Sauce
Lasagne with Vegetables
Sausage & Vegetable Casserole
Ham, Broccoli & Cauliflower Cheese Bake 
Mains
Week 2
Fruit Cheesecake
Jelly & Ice-Cream
Flapjack & Raisins
Jam Sponge & Custard
Fruit Pies & Cream
Puddings
Week 3
Cheese, Bacon, Potato & Onion Pie with Beans
Spaghetti Bolognaise
Roast Chicken Dinner
Fish Pie & Vegetables
Toad in the Hole with Vegetables & Gravy
Mains
Week 3
Pancakes with Syrup & Raisins
Bananas & Custard
Strawberry Mousse
Carrot & Banana Loaf
Semolina & Jam
Puddings
Afternoon Milk - Served at 2:30pm


Tea Menu - served at 4:00pm

Sandwiches or Crackers
Hot/Cold Savoury x 2
Vegetables x 2
Fruit x 2
Pudding x 1
Drink
Sandwiches:-
Quiche
Cucumber
Apple
Fruit Scone
Water
Ham
Pizza
Carrots
Banana
Yoghurt
Cheese Spread
Cocktail Sausages
Sweetcorn
Pear
Biscuit
Jam
Chicken Nuggets
Tomatoes
Melon
Flapjack
Tuna Paste
Garlic Bread
Peppers
Grapes
Selection of Cakes
Egg
Cheese Chunks
Celery
Oranges
Apple Pie
Boiled Eggs
Kiwi
Jam Tarts
Crackers:-
Savoury Eggs
Plums
Butter
Cheese Straws
Cheese Spread
Bread Sticks
Jam
Crisps
Tuna Paste
 
---
Buttons Nursery are proud to support the following charities: