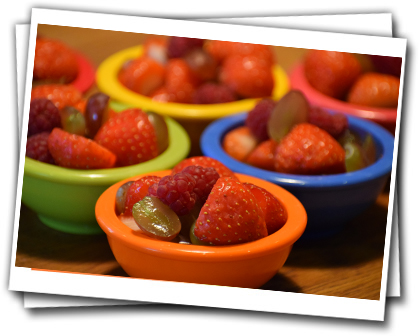 Meal times at Buttons are happy, relaxed social occasions. Children sit in small groups at tables and are encouraged to hand out plates and cutlery, talk to each other and help themselves to fresh water.

Meals provided at Buttons are nutritious and well balanced, and are freshly prepared on the premises by our qualified cook. Organic food (fruit, vegetables, meats and dairy) is used where possible in preparing meals.
All meals are provided free of charge.

Our nutritional policy minimises the use of salt, sugar and other additives. Drinking water is available throughout the day and fresh milk is provided free of charge in the morning and afternoon. We cater for vegetarian and other special dietary needs.
Our menus consist of 3 meals a day - a morning snack, hot lunch and tea. The weekly menu is displayed on the notice boards and is rotated every three weeks each week to ensure interest and variety.
Formula milk is provided free of charge - please call to discuss your specific requirements. We welcome breast-feeding mothers and provide refrigerated storage for breast milk.

When your child is ready to be weaned they progress to baby rice, pureed food and finally chunky food prepared from the main menu.

We understand all needs are different and will work with you to ensure your child's requirements are met. 

Sample Menu


| | | | | | |
| --- | --- | --- | --- | --- | --- |
| | MONDAY | TUESDAY | WEDNESDAY | THURSDAY | FRIDAY |
| WEEK 1 | Creamy Pasta with Bacon and Vegetables | Sweet & Sour Chicken and Rice | Vegetable Soup with Bread & Butter | Shepherds Pie and Vegetables | Sausage and Vegetable Casserole |
| | Sultana Pancake & Syrup | Jam Sponge & Custard | Rice Pudding and Grated Chocolate | Fruit Pie & Ice-Cream | Fruit Yoghurt and Biscuit |
| WEEK 2 | Potato Waffles, Fish Fingers and Peas | Boiled Ham, Potatoes, Vegetables & Parsley Sauce | Spaghetti Bolognaise | Roast Chicken Dinner | Macaroni Cheese with Peas & Mushrooms |
| | Fruit Cheesecake | Fruit Crumble and Ice-Cream | Bananas and Custard | Fruit Flan & Evaporated Milk | Raisin Flapjack |
| WEEK 3 | Cheese, Potato & Onion Pie with Beans | Lasagne and Vegetables | Sausages, Mash Potato, Veg & Gravy | Tuna & Vegatable Pasta Bake | Chicken Curry & Rice |
| | Chocolate Cake & Chocolate Custard | Semolina and Jam | Strawberry Mousse | Jam Tart and Cream | Jelly and Ice-Cream |